Purchases
A while back I pre-ordered the special edition of "multitudes" by Super Minerals from Digitalis Industries Arts & Crafts editions It arrived in the mail today and I gotta say that it's pretty spectacular. ACE012 - (w/ extra cassette.)
super minerals
"multitudes" CD
| | | | |
| --- | --- | --- | --- |
| Stuff that came in the mail 01/16/09 | | | |
Purchases
A couple Ebay gems showed up todayChuck Sibit "She's Gone" (Mod Art) 7"Anna St. Clair "A Foce De Danser" (Fontana) The Chuck Sibit is part of my ongoing quest to get the entire Mod Art catalog. Apparently he produced a bunch of the tracks on the Guitar Red LP, so i'm excited to hear this one.The Anna St. Clair is a duplicate I found of what might be the rarest, or at least most difficult to find 7" of hers. I actually didn't get this on Ebay proper, but rather through an emalil from one of the sellers I've dealt with in the past. I'm cornering the market on Anna St. Clair so that when everyone else catches on to her genius I'll totally have some hot bargaining records to trade to some of my other record collector nerd friends. Some comic trades from AmazonSince DC is causing some serious commotion on Final Crisis, I figured I should probably get around to finally reading the Gran Morrison Seven Soldiers of Victory that he did a couple years back. It's been on my list for a while, so I just finally took the plunge and bought the first two trades.
Purchases
It's colder than i've ever experienced here in Chicago. I stopped over at Permanent to finally pick up a copy of the Eddy Current Suppression Ring on LP (with a free digital download no less) and also couldn't help myself in picking up the King Khan & BBQ Show 7" Animal Party on Fat Possum. As luck would have it, the 7" is also on emusic, so that'll save me the hassle of ripping that to MP3.
Purchases
Stopped over to visit my friends Lance and Liz at Permanent and pick up their newest label release Cacaw. I'm super stoked to see the show this Thursday with Bobby Conn. Cacaw "Get a Brain LP" (Permanent) Evolutionary Jass Band "What's Lost" (Mississippi) [LP]
Coconut Coolouts "Party Time Machine" (Xeroid) [CD]Haunted George "Pile O'Meat (Hook or Crook) [CD] The Cacaw is spectacularly beautiful and I highly reccomend that anyone who wants one doesn't sleep as it's gonna be sold out before you know it.Not sure how I missed the Evolutionary Jass Band, but as I pretty much pick up everything that Mississippi puts out, I figure I couldn't go wrong with this one.I'm excited to check out the Coconut Coolouts CD as I really like the two 7" I picked up from them recently at Permanent.LIz suggested the Haunted George disc, and I had contemplated checking it before, so Ifigure it's worth it since it came through used.

Purchases
Here's a post I started back in November of 2008 about a bunch of stuff I picked up at Permanent. 45's from S-S Records Wounded Lion - Carol Cloud b/w Pony People (S-S Records) Lamps - Songs of Sexual Frustration EP (S-S Records)
features covers of boring girls by Pissed Jeans and I Need a Chick by Devo
45 from Les Disques Steak Bosom Divine are Family Fechiolles(Les Disques Steak)

features a guitarist from Cheveu
45's from Army of Bad LuckThese dudes know how to do it right! Super sweet packaging, clear vinyl, and each one comes with a CD-R of the 45 and bonus tracks!And if I didn't mention that everything on the label rocks, well....they totally do!
One of my new favorite labels.
These Are Powers / The Creeping Nobodies Split 7" (Army of Bad Luck)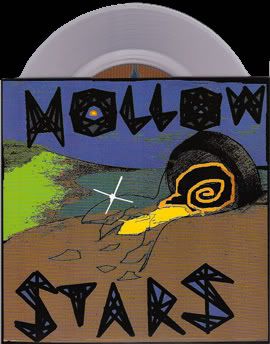 Hollow Stars - S/T 7" (Army of Bad Luck)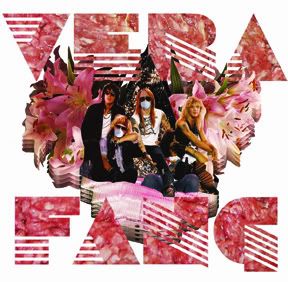 VERA FANG 7" - 4 songs + cd-r containing 2 bonus remixes by Diet Cola and Belong(Army of Bad Luck)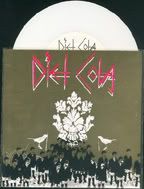 Diet Cola 7" - 4 songs, white vinyl, handscreened printing, w/cd-r. (Army of Bad Luck)
S.I.D.S
Sudden Infant Death Syndrome
From the Rob's House description:

SIDS are a synth-punk trio from atlanta. no electronics-lite here, just great driving punk rock done with keyboards, in the tradition of the screamers & early tuxedo moon but with their own sound.

Features totally gorgeous artwork, printed on both sides of sleeve plus a CD-R! 2nd press on black vinyl (ltd 500)
My Other Vehicle is a Stretcher
From the Goodnight Records Description:S.I.D.S. is made up of Adam Stroupe, Josh Fauver, Erin Carmichael and a cardboard cut out of Sid Vicious playing a pre-programmed Yamaha psr-540. The yellow vinyl 7" includes a cd-r with a hidden track, a dvd of their recent performance at Atlanta's Drunken Unicorn, and the artwork of Keren Richter (notkeren.com/Blood is the New Black). In the strictest sense of musical lineage, S.I.D.S. owes a debt, in varying degrees, to Devo, Throbbing Gristle, D.N.A. and Kraftwerk. These comparisons serve only minimally, though, as it must be understood that S.I.D.S. music--if not it's psyche altogether--is informed not by the rundown, industrial design of Mark Mothersbaugh and Gerald Casale's Akron, Ohio, but by the shiny, hyper-realized modernity of Atlanta, GA. And, yeah, that makes a difference. As much as one can hear the primal reaction to a speedy and emotionally neutral culture, there also is an underlying sense of confusion and desperation as if to say, "No human can keep up with this."
Hawkwind Covers!!!Sonic Attack (Motorheads) - Mudhoney & Mugstar (Trensmat) Sonic Attack (Lords of Light) - Kinski & Bardo Pond (Trensmat)Sonic Attack (Psychedelic Warlords) - Acid Mothers Temple and the Cosmic Inferno & White Hills (Trensmat)

<< Start
< Prev
1
2
3
Next >
End >>
Results 11 - 20 of 22